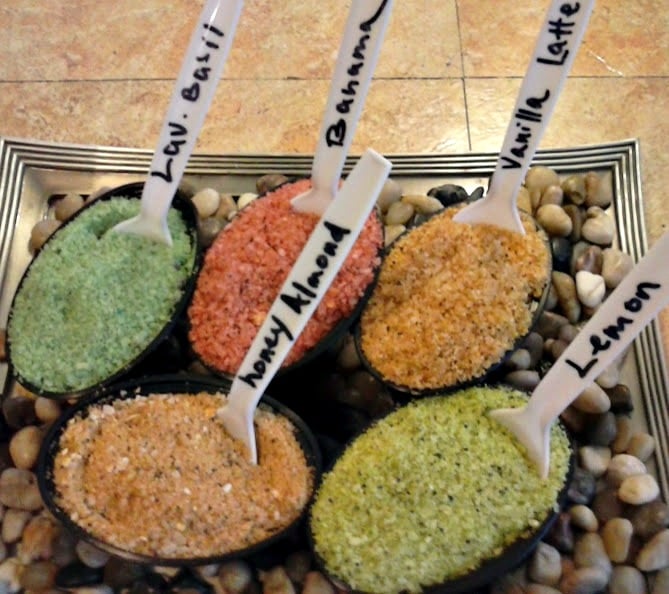 Soothing Oatmeal Salt Scrubs
Oatmeal Salt Scrubs are great for removing dead skin. Our scrubs are dense and not runny. So it clings to you, where you need it the most. Choose the one for you.
Epsom and Sea salt have the ability to reduce swelling, relax the nervous system, helps draw toxins from the skin and soothes sore muscular tension. Colloidal Oatmeal moisturizes, softens, and protects your skin. Rosemary is rich source of manganese, a mineral that helps minimize wrinkles and protects the skin from damage. Turmeric helps heal and prevent dry skin, and to slow the skin aging process, and is used to diminish wrinkles, keep skin supple and improve skin's elasticity.
Ingredients- Magnesium Sulfate, Sea Salt, Rosemary, Olive Oil, Turmeric, Colloidal Oatmeal, Bentonite Clay, Baking Soda and Aloe Vera Juice.
Some scrubs contain all or some of the following poppy seeds, lavender buds, ground coffee, banana, citrus peels, and natural clay.
Honey Almond & Oatmeal- Moroccan Red Clay, Honey Almond soap and Honey Almond & Oatmeal Fragrance Oil and Blue poppy seeds.
Bahama Fizz- Moroccan Red Clay, Blue poppy seeds, Bahama Fizz Fragrance Oil and fuchsia coloring.
Lemon Balm- Lemongrass Oil, Lemon fragrance oil, ground Lemon balm and Blue poppy seeds.
Mountain Lake- This scent smells like fresh clean laundry.
Vanilla Latte- Moroccan Red Clay, Coffee, White poppy seeds, Vanilla Velvet Fragrance Oil.
unscented- natural
net wt 9 oz